OG Kushin todellinen geneettinen alkuperä on hämärän peitossa. Jotkut sanovat sen olevan ChemDawgin sekoitus Lemon Thain ja Pakistani Kushin kanssa. Toiset epäilevät sen olevan vain 90-luvun alun ChemDawgin erilainen jälkeläinen. Jopa OG Kush nimen alkuperästä kiistellään. Jotkut sanovat OG:n tarkoittavan Original Gangsteria, mutta sen alkuperän huomioiden suurin osa on yhtä mieltä siitä, että OG:n oikea käännös on Ocean Grown.
Eräs asia on kuitenkin kiistaton, tämän kannabislajikkeen suosio. Hollywood tähdistä räppäreiden kautta lääkekannabiksen käyttäjiin kaikki rakastavat OG Kushia. Kaikkein ilmeisin ominaisuus tällä kasvilla on sen erityislaatuinen, märkä tuoksu josta voi löytää sitruunaa ja melkein kemikaalimaisia ulottuvuuksia. OG Kushin maku on yhtä vahva ja omaperäinen, ja sen pitkäkestoinen jälkimaku ansaitsee myös maininnan.
OG Kush on hyvin voimakas kannabislajike, joka on usein listattu korkealle kokeneempien polttajien suosikkeja listattaessa. Vaikutukset ovat vahvoja sekä fyysisesti, että pään sisällä. Vaikka sen vaikutukset tuntuvat sativamaisilta, on tämä kasvi geneettisesti indican dominoima. Vaikutusten voisi kuvailla olevan linjassa maun ja aromin kanssa, ne ovat yhtä voimakkaita ja monimutkaisia. OG Kush tarvitsee noin 8 viikkoa kukitusta sadonkorjuuseen ja sen keskimääräinen sato liikkuu 65 gramman tuntumassa kasvia kohti.
OG Kush venähtää tunnetusti kasvunsa aikana, mutta alkaa myös nopeasti täyttymään budista kukituksen alettua. Normaalisti sen pituus asettuu välillä 90-160 senttiä. Kukinnot ovat pitkiä ja tiheitä, limenvihreitä möykkyjä, jotka ovat paksun hartsikerroksen peitossa. On olemassa siis useita syitä miksi OG Kush on näin suosittu. Nyt OG Kush on saatavilla feminisoituna versiona Royal Queen Seedsin kautta, joten sinäkin voit kokeilla tämän fantastisen lajikkeen kasvatusta.
THC:

19%+-

CBD:

Medium

Sato sisällä:

425-475gr m2

Sato ulkona:

500-550 grams per plant dried

Korkeus sisällä:

90 - 160 cm

Korkeus ulkona:

180 - 220 cm

Kukkimisaika:

7-9 Weeks

Sadonkorjuun aika:

Lokakuu

Geneettinen tausta:

Chemdawg x Lemon Thai x Pakistani Kush

Tyyppi :

Sativa: 25% Indica: 75%

Vaikutus:

Rentouttava ja täynnä makua



By Jo J. on 11/Oct/2016 :

Title : Best of any seed bank
Comment : Og kush from royal queen of seeds are the best of any seed bank I've tried and wouldn't buy them from any other seed bank fast and discreet delivery

By Laurine D. on 06/Oct/2016 :

Title : Qualité
Comment : Bon produit:)

By Patrice D. on 04/Oct/2016 :

Title : best
Comment : tres tres bon produit !!!

By Brian C. on 04/Oct/2016 :

Title : Free og kush
Comment : Fast shipping tuck 5days got 10 white widow and 3 free og kush update when i Finnish the grow

By Mike F. on 29/Sep/2016 :

Title : O.G. Kush Nice and dusty
Comment : Great O.G Kush really strong and dusty nice flavour

By ali N. on 15/Sep/2016 :

Title : srong
Comment : very strong plant. responded very well to topping

By sandri B. on 15/Sep/2016 :

Title : content
Comment : très belle bud mais plante pas facile a cultiver

By Poeana A. on 31/Aug/2016 :

Title : OG Kush
Comment : Nice strain

By Maxime S. on 31/Aug/2016 :

Title : Great !
Comment : OG Kush !! quality seed easy to grow 5 stars buy again thanks royalseed

By Dan M. on 26/Aug/2016 :

Title : Wwooww
Comment : Super livraison rapide et promo pack de 5 graines 48h germer et deja sorti wwooww top qualite merci rqs

By Bryan G. :

The customer has rated the product but has not posted a review

By Justus N. on 17/Aug/2016 :

Title : Zwitter über Zwitter :(
Comment : Voller Erwartung bestellt, leider eine Katastrophe.....Alle Samen sind gekeimt, der Wuchs einheitlich, soweit so gut. Bei Einleitung der Blühte, sind 9 Zwitter entstanden!!!!Im Gegensatz du den Critical die alle blühen und sich prächtig entwickeln!!!Schade, RQS, leider durchgefallen :(Deswegen nur 2 Sterne

By Julien H. on 28/Jul/2016 :

Title : Goût mémorable !!!!
Comment : Un goût unique qui rend toutes les autre fade!!!!! Pieds très résistant casser à trois jour à ras du sol repiquer avec de l'hormone à repris du feu de dieu vraiment facile à faire même pour les novices

By Kai F. on 22/Jul/2016 :

Title : OG Kush
Comment : Sehr würziger,charakteristischer Geschmack.Und der Turn haut einen um.Immer wieder gerne!!

By Murilo B. on 15/Jul/2016 :

Title : Quality seeds
Comment : first time growing and the plants are very strong and healthy highly recommend, thanks RQS for the fast delivery




You can't post a review because you are not logged as a customer

Log in / sign up
We do not ship this product to the following countries:
United States, Argentina
ASIAKKAAT JOTKA OSTIVAT TÄMÄN TUOTTEET OSTIVAT MYÖS
Original Gangster Kush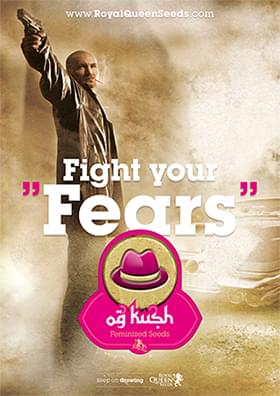 In the world of marijuana, OG Kush is one of the most famous and well-known strains available. In fact, it's considered to be one of the eight ultimate Kush varieties. The precice origin and genetics of OG are a bit hazy. Many people believe that the popular strain was first developed in California, which would offer a fitting explanation for the first half of its name. It was long thought that "OG" meant "original gangster", but the name is now thought to stand for "ocean grown", which would make sense if it was developed on California's coast.
Disclaimer
All cannabis seeds sold at Royal Queen Seeds are solely for personal use. We do not supply seeds to large scale or commercial growers. We reserve the right to refuse sale if we suspect this term is being breached.